Tent Schools of Gotvand Nomads Were Removed by the Barakat Foundation
After allocating 6 cabins by Barakat Foundation, an affiliated foundation of the Execution of Imam Khomeini's Order (EIKO), all tent schools of Gotvand County across the Markazi and Aghili districts were removed.
کد خبر: 19007600
۱۳۹۷/۰۷/۲۱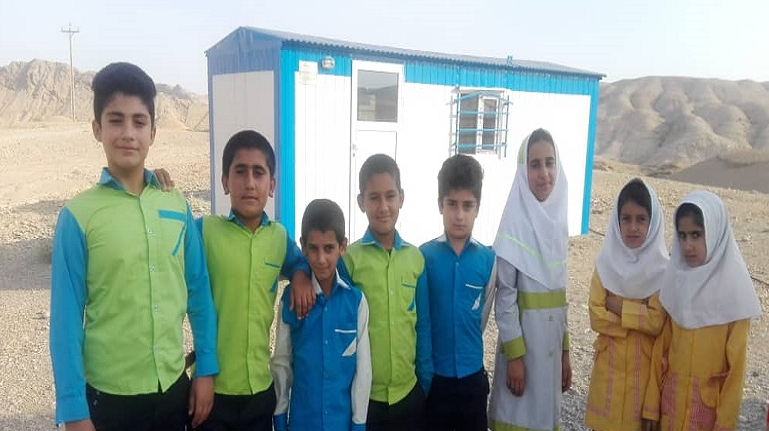 "These cabins were allocated in order to serve students and to solve problems of tent schools of nomads as the result of cooperation of Barakat Foundation, an affiliated foundation of the Execution of Imam Khomeini's Order (EIKO) and follow-ups of governor, our MP and Education Director of Nomads of Khuzestan Province," Mojtaba Ebrahimi, the education in-charge of nomads of Gotvand County added.
Referring to the fact that collection of tent schools has been taken place for the first time in the Gotvand County, Mojtaba Ebrahimi said, "Nomad students used to experience many problems during summers and winters beforehand, which most of them were solved through installing cabins awarded by the Barakat Foundation.
1800 nomad students are studying in three grades and 27 schools of Gotvand County. Gotvand County is located north of Khuzestan and has two districts: Aghili and Markazi; five cities: Semaleh, Torkalaki, Saleh-Shahr, Jannat-Makan, and 45 other villages.
It is necessary to say that extension of educational spaces and school-building is one of the most fundamental and lasting infrastructural activities of EIKO across the less-developed parts of the country and Barakat Foundation as the executive wing of EIKO has started a movement in this regard and has embarked on building schools and educational complexes across the villages and deprived regions.
These schools have been constructed in response to the requests issued by Education Departments of various provinces with the priority of more deprived provinces. With the aim of enhancing and improving the education level, extension of educational spaces, standardizing education and training and enhancing the level of education justice for the students in the deprived areas of the country, Barakat Foundation has built more than 1000 schools across 3 provinces of the country and the construction operation of another 1000 schools across the country is in hand now; out of which 110 new schools were opened in last October and the number of launched schools has reached 110 schools so far.
It is necessary to explain that Barakat Foundation, an affiliated foundation of the Execution of Imam Khomeini's Order (EIKO), is working on construction of 215 schools with the capacity of 1052 classrooms with a credit more than 950 billion rials in the Khuzestan Province, out of which 134 schools have been opened and operationalized so far. Out of the built and in-hand schools of Barakat Foundation in Khuzestan Province, eight schools have been built in Gotvand County.
نظرات
There is no Comment exist!