Barakat Employment and Infrastructural Initiatives Were Launched in the Kerman Province
During the visit, Dr, Mokhber, the President of the Execution of Imam Khomeini Order (EIKO) paid to Kerman Province on October 17, 2018, Barakat employment and infrastructural projects were inaugurated and launched in Ravar County and other deprived parts of the Kerman Province.
کد خبر: 19007617
۱۳۹۷/۰۷/۲۳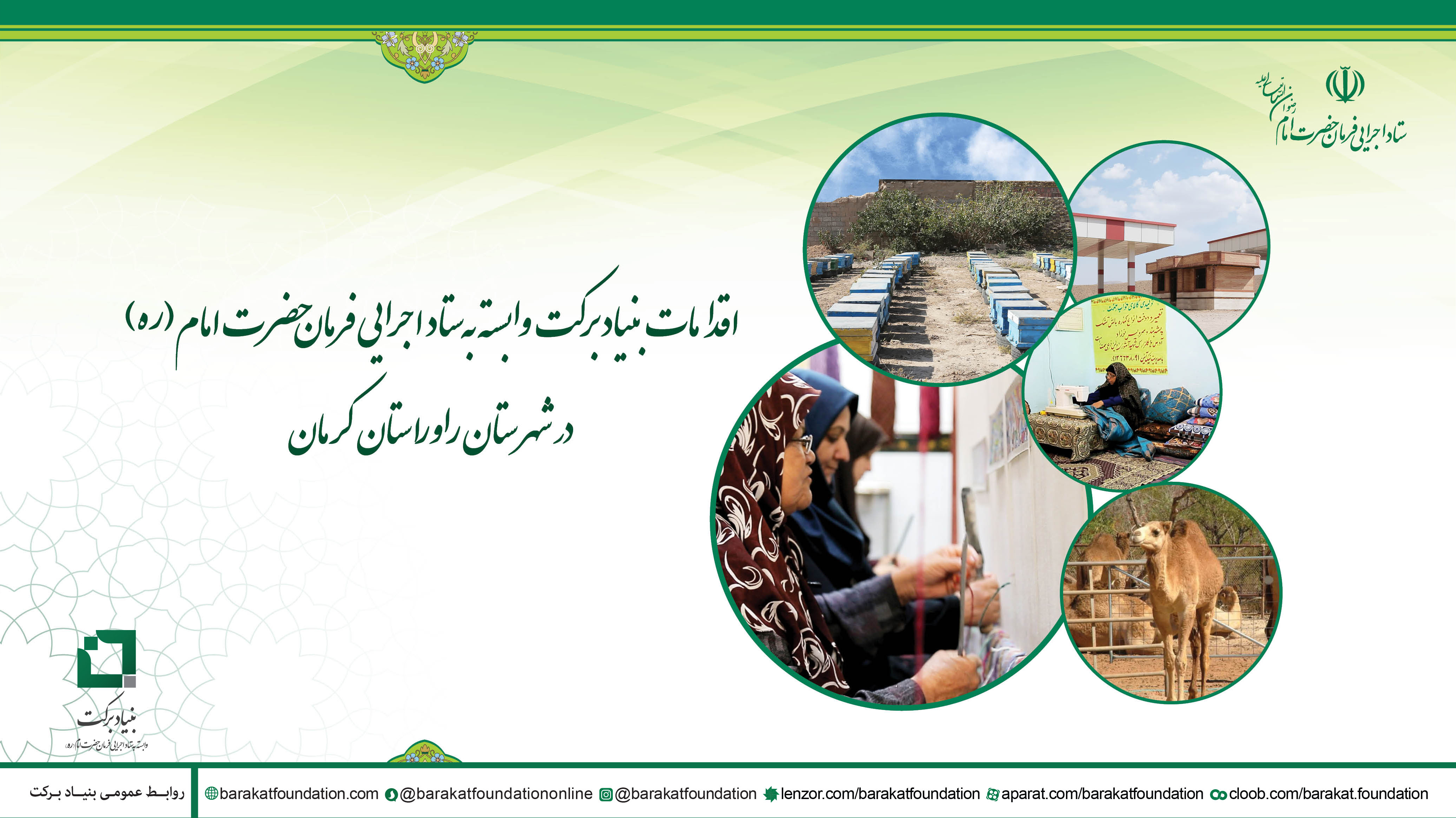 With the aim of meeting considerations of the Leader, Ayatollah Khamenei, through implementing deprivation eradication plans and supporting projects related to development of the deprived and less-developed areas of the country, the Execution of Imam Khomeini Order (EIKO) paved the way for eradicating deprivation and recruiting the qualified local workforce in the business space under the framework of Resistive Economy Policies across the Ravar County.
In accordance with the results of studies about identification Ravar County, Barakat Foundation, an affiliated foundation of the Execution of Imam Khomeini's Order (EIKO), has started to implement the economic empowerment projects in this county since 2017. The investment capacity predicted to implement the economic empowerment projects and employment projects of Kerman Province with the priority of Ravar County is 1000 billion rials within 3 years.
In accordance with the memorandum of understanding concluded between EIKO and Kerman Provincial Government, studies with the aim of economic empowerment and development and job generation were started to identify Ravar and given the capacities across the region, society-based and loans-based entrepreneurial projects were prioritized in this regard.
In this visit, a total of 1125 direct and indirect jobs will be realized in Ravar County through operationalization of job generation and SAHAB economic empowerment projects and loans-based projects.
Economic empowerment based on ASEMAN (popular investment and manpower employment bylaw) will be started formally during this visit through organized measures and purpose of making 800 jobs across the Ravar County.
Likewise, 22 Barakat constructional and infrastructural projects across Ravar County's villages including implementation of a water supply project have been completed and ready to be opened. In this visit, 16 other constructional projects including a school and 4 water supply projects across the deprived areas and villages of other counties of Kerman Province will be launched.
Moreover, the president of the Execution of Imam Khomeini Order (EIKO) will start the operation of the construction of 214 projects across villages of Ravar County including house building projects for deprived people and sports projects.
It is necessary to explain that the total value of investment in the abovementioned infrastructural projects is 141 billion rials.
The Execution of Imam Khomeini Order (EIKO) has implemented more than 2408 projects in various fields and areas such as deprivation eradication, economic empowerment, job generation, infrastructural and constructional affairs, building schools, mosques, cultural centers and other services with the total capital of 4535 billion rials in the Kerman Province, so far.
Constructing housings for the needy people, providing insurance services and awarding interest-free loans as well as offering financial and insurance services to orphans are among other public benefit measures made by EIKO in the Kerman Province.
نظرات
There is no Comment exist!