Head of EIKO Stressed: Effective Measures to Empower Masjed-Soleyman County
Head of EIKO stressed: a good and serious job must be done for Masjed-Soleyman in order to get people rid of this condition.
کد خبر: 19259679
۱۳۹۸/۰۴/۲۷
According to the Public Relations Department of Barakat Foundation of the Execution of Imam Khomeini's Order, Dr. Muhammad Mokhber, who was speaking during his recent tour to the earthquake-stricken parts of Masjed-Soleyman in the Crisis Taskforce Meeting of this county, said, "It is evident that no major change has occurred in the Masjed-Soleyman County yet."
Stressing that the country's development is indebted to Masjed-Soleyman, he said, "Ministries of Roads and Urban Development, Interior and Oil must take the wheel and take fundamental decisions for Masjed-Soleyman."
The head of EIKO also said, "Completion of the incomplete Mehr Housing Project units is among the most urgent works which must be put atop agenda and EIKO will render necessary supports in this regard."
"It is impossible to solve all of the problems of the country through the government and people's potentials must be used to reach the aims and goals," he explained.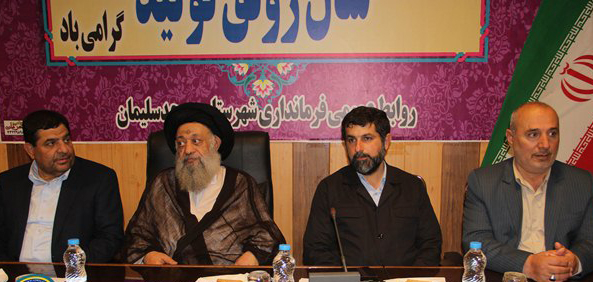 He also recalled, "In the recent flood, people made floodgates themselves and fought against the flood. Without them, we won't be able to control the flood."
"The recent visitation showed that no major changes have been occurred in the Masjed-Soleyman County within past 30 years," he added.
The head of the Execution of Imam Khomeini's Order said, "It has been decided to grant 3000 packages of home appliances including six necessary goods to the Masjed-Soleyman County's earthquake-stricken people."
"By next October, 3000 stationary packages including 14 stationary items will be delivered to the education authorities of Masjed-Soleyman in order to be distributed among students," Dr. Mokhber added.
Head of the Execution of Imam Khomeini's Order said. "Given the high unemployment rate in the Masjed-Soleyman, it has been decided to operationalize 1000 job creation projects by the yearend which will be resulted in employment 2400 people both directly and indirectly."
To conclude his remarks, Dr. Mokhber stressed that reconstructing the damaged houses and also implementing job creation projects across different parts of Masjed-Soleyman is among effective measures which must be conducted as soon as possible.
نظرات
There is no Comment exist!